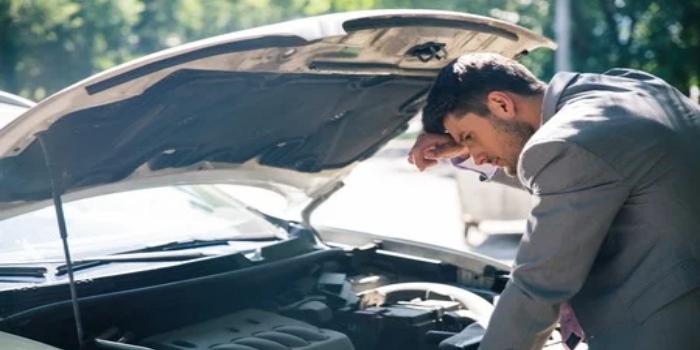 A car hood, also referred to as a bonnet in some other countries, is the hinged cover that rests over the engine of a front-engine vehicle. Its purpose is to provide access to the engine for repair and maintenance. A concealed latch is typically used to hold down the hood. On vehicles with an aftermarket hood and on race cars, hood pins may be used to hold down the car hood. Hoods sometimes also contain a hood scoop, wiper jets, power bulge, and/or hood ornament. Car hoods are typically constructed from steel and sometimes from aluminum.
Aftermarket car hoods may be constructed from various other materials, including carbon fiber, fiberglass, or dry carbon. The hood design may vary from one make and model to another, including SUV/crossover, truck, minivan and passenger-car models.
Concerns regarding the severity of a potential pedestrian head injury during a collision with a motor vehicle have led to advanced hood designs on many models. Such designs may include a multi-cone inner hood panel design. An active structure that is capable of pushing the surface of the hood away from the vehicle's hard motor components in the event of a pedestrian crash is also in use. Pyrotechnic or spring force designs are often used in active-hood design.
Get Free Quote

703 939 9933
Car hood ornaments evolved from a practical device into an ornamental feature and are commonly viewed as a type of branding badge for many car manufacturers. The ornament is usually located on the front center part of the hood. When automobiles were first introduced, cars typically possessed a radiator cap on the outside of the car hood. The radiator cap indicated the temperature of the coolant fluid in the engine. In 1912, Boyce Motometer Company received a patent that incorporated a thermometer in a radiator cap. Many car manufacturers wanted to have their own emblem displayed on the hood of their vehicles. Boyce Motormeter made various logos available to automakers. Hood ornaments, also sometimes referred to as car mascots, remained popular throughout the 1950s.
A car hood is meant to protect the performance parts of your vehicle, including the engine, while also providing easy access for repairs and maintenance. It is possible for the hood to incur damage as well. One of the most common types of damage is to the hinge, which is the device that connects the hood to the body of the vehicle. Over time, the hinge can become loose or may fall off completely. The hood is also prone to receiving scratches and dents.
Although this might appear to be a minor problem, dents and scratches can lead to depreciation in the value of your vehicle. Scratches and dents can also lead to exposure to the elements that can result in rust and corrosion. This can be a serious problem that can ultimately expose the engine in your car to snow, sunlight, and rain. When this happens, it can impact the performance of your car's engine.
Get Free Quote

703 939 9933