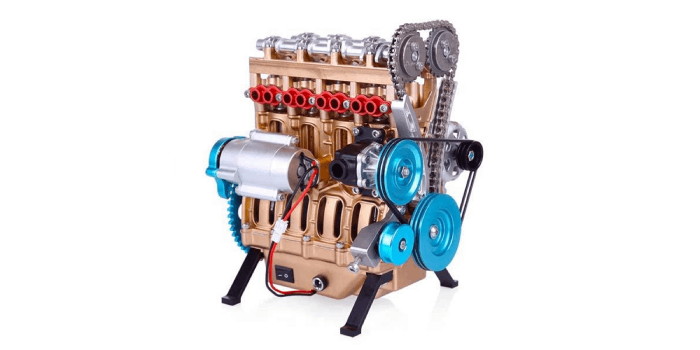 What Is An Engine Assembly?
You've probably seen car engines before, but what are they exactly? The engine is a complex piece of machinery that has many moving parts. The main components include the crankcase and cylinder head; pistons and bearings are mounted, pre assembled cylinder heads mount aggregates, belt drives and cable mounted. This article will explore what an engine assembly looks like in more detail!
An engine assembly is the most complete replacement choice. An engine assembly takes the long block and typically adds an intake manifold, valve covers, oil pan, water pump, and crank pulley. Some rebuilders will also include exhaust manifolds and ignition distributors.
In the case of a smaller engine, such as an inline-four or V-six, you may see only one intake manifold and exhaust manifold. Larger engines might have two or three different manifolds. When it comes to cost, rebuilding will be more expensive than replacing with a new long block. However for someone who needs something that is reliable and good in performance, rebuilds are worth considering.
Get Free Quote

703 939 9933
Engine Assembly Benefits:
A new long block is less expensive than rebuilding an engine.
The process of assembly will be quicker and easier for a mechanic to do because it doesn't require disassembly.
Engine assemblies can last as many miles, but they are unlikely to have the same performance quality or reliability that a rebuilt engine would offer.
Ways To Improve Performance And Sound: – An exhaust system upgrade with dual pipes and high flow mufflers should improve sound while also getting rid of harmful emissions; this could potentially increase horsepower by up to 20%.
If you're looking for more power out of your car without adding any fuel restrictions, then upgrading from stock intake components might work best! Cold air intakes access cold air which would typically be at a higher altitude. This intake system is recommended for those looking to gain more horsepower without any restrictions on fuel consumption.
Cranking up the RPMs with an aftermarket transmission can also help increase performance and sound! The gears will have improved gear ratios, so you'll see less engine braking in turns as well as better acceleration!
Get Free Quote

703 939 9933
So, you have decided to rebuild or replace the engine in your vehicle. A typical motor vehicle engine is made up of two main sections: the engine block at its bottom and the cylinder head at the top. These are made with a sturdy metal frame and hydraulic pressure cylinder. A jack handle is used to ratchet up the engine out of the engine room. They are supported by chains and hooks that bolt to the engine's factory holes or brackets.
We recommend the AFF Folding Engine Crane (with 4-position telescopic booms), ATD 2-Ton Folding Engine Crane, and OTC Folding Floor Crane for maximum value and versatility. Our site has many different short blocks, long blocks, and complete assemblies. We also have the Replace OE replacement engine for a wide variety of makes back to the 1960s, the Dahmer Powertrain remanufactured long block engine and the Genuine Crate Engine.
The AFF Engine Stand is a good choice. We also recommend the Auto Dolly Folding Engine Stand (Hein-Werner Engine Stand), Sunex 1-Ton Folding Engine Stand (Sunex 1-Ton Folding Engine Stand), and the Hein-Werner Engine Stand. You'll find engine seal kits, gasket sets, and hardware kits in our Engine Rebuild Kits section.
Basic Parts Of Engine Assembly
Engine Assembly consists of many parts such as the combustion chamber, the cylinder head, pistons, the crankshaft, the camshaft, the timing chain, Fuel Injections, and many more but the important function is that it allows the engine to create power by burning fuel and creating the pressure needed to do this.
In a car, the engine is divided into several parts that make up the bottom end. The cylinder block is made of cast iron or aluminum and has several machined holes and bores. The cylinder block houses the pistons, cylinder head, crankshaft, timing gear, and fuel pump. It also has oil galleries that carry lubrication oil. The cylinder head is joined to the cylinder block by a flat machined surface.
A piston is attached to the main journal and a small end of the connecting rod is called the gudgeon pin. These two components connect to the piston and the crankshaft, which rotates to open and close the valves. Some engines have a single camshaft, while others have two in each cylinder head. In addition, the crankshaft is the source of power and a major component of an engine. It is made of heat-treated alloy steel and consists of the crankpin, main journal, and oil holes.
Besides the cylinder head and the cylinder block, there are many other important components in an engine. The cylinder block houses the piston and the crankshaft, and the cylinder head is the channel for fuel into the engine chamber. The cylinder block is located lower in the engine, and it houses the cylinders, the piston assemblies, and the crankshaft. These components are important because they serve as the foundation for the other parts of the engine.
We offer the best quality Used Auto Parts at an affordable price, We have a wide range of Engine Assemblies and other parts for cars, order now and avail of incredible discounts.
Get Free Quote

703 939 9933