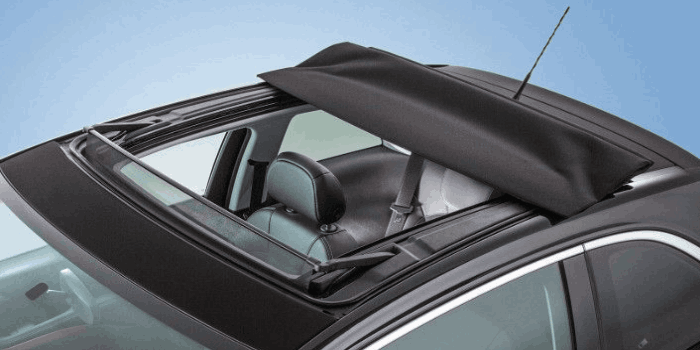 On a pleasant day or a starry night, an open-air driving experience makes the trip more enjoyable. Those who drive a convertible are lucky in this regard – but for those who don't want a convertible, a car with a sunroof can be a really good option.
A sunroof is a retractable panel on an automobile's roof that allows cool natural air and light to enter. There are other benefits of the sunroof as well. Today, we will discuss everything you need to know about a sunroof.
Types of Sunroofs
Sunroofs in cars are mainly available in three types: tilting sunroof, sliding sunroof and a panoramic sunroof
Tilting Sunroof is a type of sunroof in which the glass surface is lifted up and down to open or close the sunroof.
Sliding Sunroof is a type of sunroof in which the glass surface slides backwards and forwards to open or close the sunroof
Panoramic Sunroof is a large glass that covers the entirety of the vehicle's top.
The terms "sunroof" and "moonroof" are often used interchangeably but incorrectly. A moonroof, unlike a sunroof, has a tinted glass panel and allows sunlight to enter even without the need to open the roof.
Benefits of Sunroofs in Cars
Are you wondering whether a sunroof is worth it? Take a look at 4 of the most compelling benefits of a sunroof below.
Improved Ventilation — If you open the window in a traffic jam, you will absorb a significant amount of exhaust pollutants and particles. However, sunroof uses the principle of negative pressure ventilation to provide better ventilation than windows. Due to the pressure difference between the air flowing inside and outside the car, the fresh air comes inside the car and the air accumulated inside the car exits via the sunroof.
Way of Safe Escape — If you are unable to depart through the doors in case of any accident, the sunroof might assist you in getting out. Most designs make it simple to remove the glass completely if you need to leave.
Improves the driving experience by allowing passengers to view the beauty of the surroundings from the roof.
Get Free Quote

703 939 9933