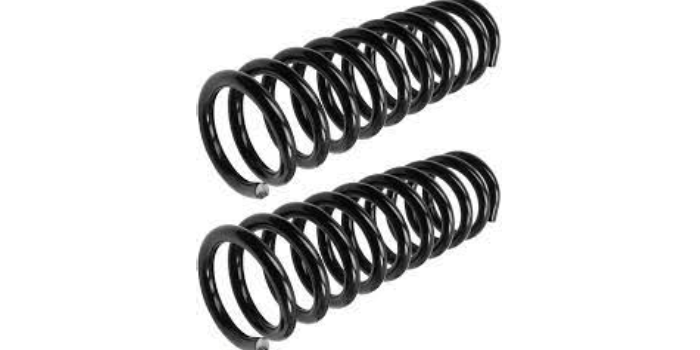 A coil spring is a mechanical device which is typically used to store energy and subsequently release it, to absorb shock, or to maintain a force between contacting surfaces. They are made of an elastic material formed into the shape of a helix which returns to its natural length when unloaded.
Under tension or compression, the material (wire) of a coil spring undergoes torsion. The spring characteristics therefore depend on the shear modulus.
A coil spring may also be used as a torsion spring: in this case the spring as a whole is subjected to torsion about its helical axis. The material of the spring is thereby subjected to a bending moment, either reducing or increasing the helical radius. In this mode, it is the Young's Modulus of the material that determines the spring characteristics.
Coil springs are commonly used in vehicle suspension. These springs are compression springs and can differ greatly in strength and in size depending on application. A coil spring suspension can be stiff to soft depending on the vehicle it is used on. Coil spring can be either mounted with a shock absorber or mounted separately. Coil springs in trucks allow them to ride smoothly when unloaded and once loaded the spring compresses and becomes stiff. This allows the vehicle to bounce less when loaded. Coil spring suspension is also used in high performance cars so that the car can absorb bumps and have low body roll. In off-road vehicles they are used because of their range of travel they allow at the wheel.
Coil springs used in the engine are compression springs and play an important role in closing the valves that feed air and let exhaust gasses out of the combustion chamber. The spring is attached to a rocker that is connected to the valve.
Get Free Quote

703 939 9933