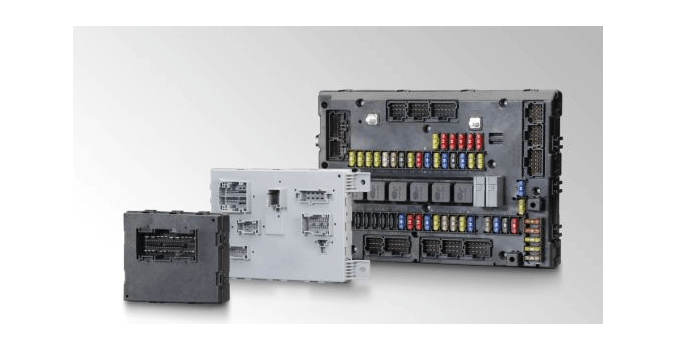 Body Control Module (BCM) in Automotive Industry
What is BCM in cars: Functions, benefits, and challenges
The rapidly increasing demand for driving comfort and safety inevitably leads to the need for a cutting-edge vehicle electrical system architecture.
What is a body control module?
It is a comprehensive system that communicates and integrates the work of all electronic modules through the vehicle bus. Strictly speaking, the body control module function is to control load drivers and coordinate activation of auto electronics units.
The microcontrollers and connectors integrated into a BCM constitute the central structural unit of the system responsible for the controlling part. Operating data is transmitted to the control module through input devices. These may include sensors, vehicle performance indicators, and variable reactors.
After data is processed by the module, a response signal is generated through integrated output devices, including relays and solenoids. Through the system of output devices, the BCM coordinates the work of various electronics systems. This diagram of a body control module design shows a customized circuit that works as a gateway connecting and integrating smaller circuits.
Get Free Quote

703 939 9933
What are body control module functions?
A BCM in automotive can perform a wide range of functions. Output devices are managed based on data received from input devices via CAN (Controller Area Network), LIN (Local Interconnect Network), or Ethernet as the means of communication with modules and systems. Electronic systems that can be integrated and controlled via a BCM include:
Energy management systems
Alarms
Immobilizers
Access/driver authorization systems
Advanced driver assistance systems
Power windows
A BCM can perform multiple control-related operations simultaneously. One of the major objectives of this module is to detect malfunctions in the work of electrical system components. Integral body control module features include:
Ensuring safety, testing, and control of crucial electrical loads, including lights, immobilizers, air conditioning systems, locking systems, and windscreen wipers
Maintaining communication between integrated control units via the vehicle bus system (CAN, LIN, or Ethernet) Working as an integration gateway Providing a user-friendly interface for complex data management
Using BCM in automotive electronics is challenging. But it's also remarkably beneficial
You may have heard that programming a BCM can cost a bundle, but this is only part of the issue.
Developing body control module software is indeed a remarkably challenging and complex process. These are the major challenges associated with BCM programming:
Increased performance needs
Increased number of input/output processors and channels
The need to develop a cycle of more complex modules
The problem of power consumption in both run and sleep modes
Get Free Quote

703 939 9933